No results were found for the filter!
SET VSE 1 - Automatic chicken door VSE with...
Special offer: VSE, HS. An ideal complete set consisting of Electronic Doorkeeper VSE incl. integrated timer, manual controll and a small chicken door, size S. All you need to mount it outside and control by light, light + time, exclusive by time or manually. The chicken door is ideal for most chicken breeds. originally automatic chicken door opener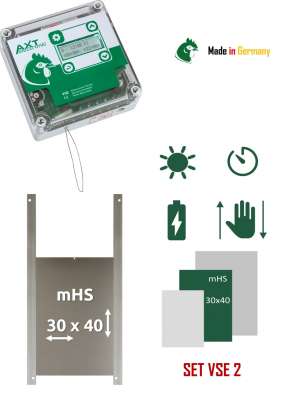 SET VSE 2 - Doorkeeper VSE with batteries,...
Special offer: VSE, mHS. An ideal complete set consisting of Electronic Doorkeeper VSE incl. internal timer, manual control option and a normal chicken door, size M. All you need to mount it outside and control by light, light + time, exclusive by time or manually (closing). The chicken door is ideal for most chicken breeds and ducks. original automatic chicken door opener